We are thrilled with your work!!
Dear Mike, Miranda and all who worked on our Project 1 Furniture, We are thrilled with your work!! Every piece is stunningly beautiful and, best yet, exceptionally comfortable! All of this furniture has great sentimental value to us, so we are very grateful to you for restoring it. It used to make us very sad to see it in the basement, so shabby after so many years of use and memories. We just could not part with it. Now, we look at this furniture with great happiness. It is back to being part of the family again!! With deep appreciation, Bob and Bobbie Eddy
Thank you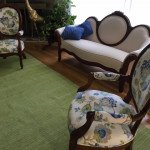 Thank you for the exceptionally good work you did on my antique love seat and two chairs. I have received nothing but rave reviews about your workmanship, and I know that my grandmother and mother would have been more than pleased with their furniture. Tina Demchak
Two living room chairs reupholstered, recushioned and buttonwork.
I am very happy with the reupholstering of my two living room chairs. I wanted to restore them as they had belonged to my Parents. I researched reupholstery shops and found Blawnox Upholstery. I am so glad I did because the chairs turned out beautiful. Miranda and Mike were so helpful through the process. The cushions and the button work make the chairs look brand new. The material I chose looks perfect on them too. I chose the Kravet stain resistant fabric and it looks great. The chairs look beautiful in my living room. I have to get another chair reupholstered and I will be getting it done at Blawnox Upholstery.
New old chair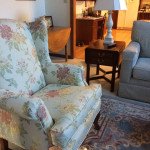 We are so happy with our wing chair re-upholstery. The fabric is beautifully placed on the chair and every detail is perfect.
Living Room Furniture
picked up our furniture from our home, reupholstered our sofa, and three chairs, delivered back to our home. They even took the time to make us new pillows, and to put caps on our furniture legs to prevent scratching our hardwood floors! Cannot say enough good for this company. their service is excellent. Miranda is awesome, energetic and eager to please you.She is a perfectionist, as my husband and i are. They have many , many fabrics for you to choose from, and they guide you and help you to make the right decisions for your style. We are ecstatic with our 'new' furniture!!!! Thank you Miranda and Blawnox Upholstery!!!!
My great grandmother's wicker sofa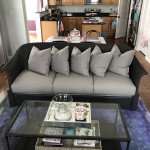 Mike, the sofa turned out PERFECTLY!! It was my great grandmother's wicker sofa so it means a lot to me. And you have given it new life but maintained the integrity of the piece. It is absolutely beautiful! And I LOVE the fabric and every detail of the seams and pillows. It's just perfect! I cannot thank you enough!!
Schenley Garden Apartments Cushions
Great job Mike!!! We will be doing more business. Everybody is very impressed with the quality work.
My New Chair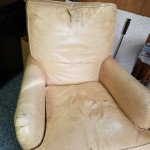 I am very pleased with how my chair and ottoman turned out. They are like brand new. I sent the before and after pics to my sister who agreed how nice they are. Why did i wait so long to do this? Thank you so much.
beautiful job
Hi Mike, Thank you for the receipt and the beautiful job that you did redoing the sofa. My husband and I are very happy with the way it turned out. Thanks, Sally Schneider
Every aspect has been terrific
Megan recommended Crypton fabric for our dining room chairs. We saw a short demonstration of its clean-ability. I put the six chair seats together over a weekend. They looked perfect for fabric and color. Three days later our 2 1/2 year old grandson came for his day at Gram's. Within minutes he had smeared chocolate on the seat of one of those beautiful new chair covers. Gram took a damp cloth and wiped away the chocolate. WOW! no stains, no tears, just a great chair covering as new as ever! Thank you
Positive Feedback
We wanted a window seat cushion made and contacted Blawnox and another seamstress. I had several questions via e-mail and Mike was extremely responsive ( as was Megan on a previous occasion) Love that you use certipur-us foam. our window seat cushion was done promptly and quality of the piece is excellent. Thank you!
Service was Great!
Service was great and we received the finished chairs and ottoman sooner then expected! Pick-up and delivery men were friendly and polite.
Replaced foam in seat cushion
Oops, I goofed.  I picked what I thought was a comfortable foam for my seat.  I was so wrong.  I called Mike the next day and told him I was unhappy with what I had picked.  The cushion was way too firm and I knew I could not live with it.  Mike said to bring it in and we would start again.  I am happy with the new selection I made.  Mike is a true gentleman and a wonderful businessman. I will continue to sing praises about the company.
LoveSeat
From my first phone call right until I picked up my love seat your service was wonderful!! I thank you!
Recovered 6 dining room chairs
They arrived on time, were very professional, had the cushions back in a timely fashion and the work was beautiful. Description of work:recovered 6 dining room chairs
The guys were very professional and friendly
The guys were very professional and friendly as well! Completed the work in a timely manner. The cushions are beautifully done. I would highly recommend this company. Description of work: Re-upholstered two love seats, one sofa and two arm chairs. Purchased fabric through books at upholsterer's. All foam was replaced. I also asked if they could make extra protective arm covers for one love seat and the two chairs and some extra pillows with the leftover material. They kindly made them at no charge. They picked up and delivered.
Excellent Service
More people in the area should know about your excellent service, craftsmanship, and taste. I could not be happier with your shop and plan to spread the word!
Reupholstered two dining chairs
Had a great selection of fabric. Friendly and helpful. The work done was excellent !! I love these chairs more every time I look at them. Description of work: reupholstered two dining chairs
Lori Robinson
This is the third time that we have used Blawnox Upholstery at my office, and each time the results have been even better than anticipated. The first two jobs were for upholstery work on chairs, and this recent one was for window treatments. Miranda and the entire staff are friendly, helpful, and great designers. For the window treatments, they came to look at our space and then gave us multiple fabric samples and suggestions for design. They helped us chose four different designs and fabrics for various rooms in our executive offices, and everyone loves them. They worked with us to pick just the right looks and colors for each room. The installation of the treatments was professional, quick, and flawless. The upholstery work was for chairs in several conference rooms and guest chairs in our executive offices. As with the window treatments, everything was excellent. They were very helpful in finding the right patterns, colors, and fabric weights. Both times, we had a vague idea of what we wanted, and Miranda and the team helped guide us to the perfect solution. I would highly recommend them.
They build a sofa, love seat, chair and ottoman.
They build a sofa, love seat, chair and ottoman. They are beautiful. Mike, his wife and staff are great to work with. I recommend them without hesitation.
Chairs reupholstered
Awesome, very happy, beautiful stripes all match, perfect job! Description of work: Chairs reupholstered
Re-upholstered six dining room chairs
Wow - what a difference! Beautifully redone - very precise and elegant. Wasn't their problem that we picked one of the most expensive fabrics in the book! Chairs look great - I wish we had done this years ago. Description of work: Re-upholstered six dining room chairs
Decided not to use, but promptness and follow up excellent.
He re-upholstered a chair for me.
The workmanship was actually very nice. But, he did not put enough down in seat cushions. Because I'm a) lazy, and b) totally non-confrontational, I never did anything about it.
Re upholstered my grandmothers antique settee.
It needed to have everything re done from the re gluing of the frame to re doing the springs with 8 way hand tie. They were very helpful in helping me pick a beautiful fabric from their large fabric showroom. The quality and service is top notch.
6 dining room chairs,
Couldn't be happier Description of work: Recovered and re-padded 6 dining room chairs, came to my home, took chairs apart, returned them within a week and reassembled. Workmanship was excellent.
Reupholstered two chairs & rebuilt sofa cushions. Did a beautiful job.
They reupholstered four chairs: two wingback and two "ladies" chairs.
Description of work: They reupholstered four chairs: two wingback and two "ladies" chairs. They had a huge selection of fabrics to choose from and helped me to quickly make a selection of coordinating fabrics. I didn't give them a deadline but they have finished half the order quickly, delivered it where I needed them to go and have kept me informed along the way.
Sofa and Love-Seat Reupholstery
Our experience with Blawnox Upholstery was wonderful. Miranda and Meghan went out of their way to help us choose fabrics that met out decorating and financial needs. The men who picked up and returned our love seat and sofa were polite, punctual and very respectful of our home and furniture. The final product exceeded our expectations. Their meticulous work resulted in a beautiful sofa and love seat. We are grateful to all at Blawnox Upholstery and would highly recommend them. Description of work: reupholstered a sofa and love seat
They re-covered some furniture: a sofa and two chairs.
Refinished and upholstery of collector item chair
Nicely done. Took a while though but worth it. Description of work: Refinished and upholstery of collector item chair
Re-upholstered 4 antique chairs.
It was a great job. At first we were unsure of the refinishing because it was so different from the original, which was an antique painting process done in Italy, which is no longer done and the paint/stain mixture is no longer available. The walnut was stripped to a natural finish. After discussing with family and friends, we decided that we loved it. During this uncertainty, Blawnox Upholstery was supportive and encouraging. They offered a refund, if we were not satisfied. The staff and owners were extremely helpful in the selection of fabrics. Very knowledgeable about the quality and appropriateness. I heartily recommend them
Custom build chair and sofa, custom slip covers, reupholstered chair, custom pillows.
Miranda and team are a joy to work with. My journey began a year ago. After getting some preliminary pricing from Blawnox, I then comparison shopped for almost a year but could not find the selection or custom options anywhere else. I had previously purchased from two nationally known higher end retailers in the Pittsburgh area, but neither could offer me a similar product for a comparatively similar price. The Yumak?s (owners) and Megan made me feel welcomed and very much at home as I spent quite a few hours searching for just the right fabrics for my project. I was always greeted warmly and never felt rushed. They ordered samples, researched my questions, and advised me on features that would optimize the functionality and style of my room. They custom made beautiful, washable slipcovers and matching permanent skirts for two love seats, custom made a sofa and a chair, and reupholstered a French country chair that is now a focal piece. We finished off with a number of custom pillows to accent the room. The service is wonderful and the quality of the craftsmanship is outstanding. Blawnox offers a seemingly unlimited number of custom options in fabrics, furniture styles, window treatments, slipcovers, etc.; you are only limited by your imagination! The delivery team was very friendly, punctual, and conscientious. My room has been transformed and is just what I envisioned. I will most certainly be a return customer to Blawnox Upholstery.
We've had our dining room chairs recovered.
They were very good. I spent a lot more. It was upholstery so that deal wasn't going to cover much but it still helped. They did a great job but I thought they were expensive. Description of work: We used the "Big Deal" that we purchased for the services of Blawnox Upholstery. We've had our dining room chairs recovered. They redid the fabric and gave it new cushions.
Estimate for upholstery.
They were very prompt with their response and gave me a detailed estimate, but the price was just too high and we have decided to hold off on the project. Description of work: Estimate for upholstery.
Dining room chairs.
My experience to them was very well and I was very pleased. They were pleasant, I think I've got good value and no problems. They were very pleasant to deal with and I thought I actually got a good price for the work I have done, the price wasn't an issue and they were able to accommodate that. Description of work: I used Blawnox Upholstery for the re-upholstery of our dining room chairs.
The chair pads were removed by employees as well as a broken chair and taken to the shop.
Miranda spent the time with me to chose a stock fabric at an excellent price. The finished pads were delivered and installed this past weekend. I am very satisfied with the custom work, it is obvious they take the time to align the patterns which is not always the case. The new foam is comfortable and fits the chair seats perfectly. I am so happy with the results and would not hesitate to use this business again and again.'Also, the the delivery personnel were punctual and very pleasant to work with. Deborah Description of work: The chair pads were removed by employees as well as a broken chair and taken to the shop. They were all recovered and new foam installed.
Restored to life the seat and back cushions of a sagging, droopy loveseat by removing the existing fluffy cottonball stuffing with FIRM (REALLY FIRM!) innards
The company immediately responded to my email for help. When I went to the establishment for more information, they clearly explained exactly what they would be able to do and showed me the materials with which they'd complete the work. The loveseat was returned to me within one week's time and looks fantastic. Even more satisfying, it 'sits' better than it did when it was brand new. I'm no longer embarrassed to have it in my home. This was not inexpensive but definitely worth the cost. The sofa in another room now knows it's reached its last days in its current condition.
They made twelve replacement cushions for two couches.
Great fabric selection, quality work, reasonable cost, completed in less than three weeks.
The process was fully transparent,
The process was fully transparent, and I was invited to participate in all stages of the design and completion process. Description of work: I was in need of a signature piece of furniture for our daughter's new room. Miranda helped me design a chaise that would continue to delight through the elementary school years. It is a truly custom piece, that is nothing short of spectacular. During the design process, Miranda called us to ensure that we were pleased with the various elements of the piece. She noted that she was unhappy with an aliment, and suggested that we alter the design slightly. It turned out even more beautifully than I could have imagined. Miranda and her team are now working one several other pieces of furniture for our home. We cannot say enough about the professionalism, and attention to detail of everyone involved at Blawnox Upholstery.
5 piece sectional couch completely re-stuffed and re-upholstered.
First did email exchanges with me sending pictures of sectional. Got an estimate. I waited a year and job had to be re-estimated. (price did increase slightly) Visited shop and owners were so helpful and work looked great. Advised us on materials. We said "Do it!". They did a magnificent job and quickly! Great delivery guys too. Description of work: 5 piece sectional couch completely re-stuffed and re-upholstered. Plus added leg 'locking' devices that keep the separate chair pieces from moving apart.
Had 2 couches and 2 love seats re-upholstered.
Blawnox Upholstery went above and beyond in exceeding our expectations. The fabric choices were hung neatly in a very well lit and extremely clean showroom. It took hours to view the wide selection of fabric choices availabe. The owners are extremely helpful, knowledgeable, and very professional. They guided us through the selections process making sure that we chose a fabric that would wear well and would be good for our furniture. We were able to pick our cushion firmness and view our furniture before it was delivered to our home. Our couch had tufting and buttons on the back. The work to reupholster this was phenominal. Truly a work of art! Our dining room chairs were reupholstered and the cushion and piping were perfectly done. Our family room furniture had wood sides and was returned in excellent condition. Each day that we look at our completed pieces reaffirm that we made the right choice in having our furniture reupholstered by Blawnox Upholstery instead of buying new. Description of work: I had 2 couches and 2 love seats re-upholstered.
They recovered a window bench seat for us.
If there was something that was not done the way I wanted it, they redid it, at no extra charge. It was perfect!
I had the foam replaced in four sofa cushions
I took in four sofa cushions to have the foam cushioning repaired (upholstery still in good shape). I found the owner to be helpful, pleasant to talk with, and professional. The work was done on time, and I can't believe how much better my sofa feels with new cushions. it's like having a completely new sofa -- maybe even better, because I think the quality of the replacement exceeds that of the original foam. I will definitely use them again and will refer my friends. Description of work: I had the foam replaced in four sofa cushions. I called in advance, but did not need an appointment for what I was having done. I dropped off the cushions at their store and picked them up when they were finished.
They reupholstered two Conant Ball chairs and a George Nelson daybed.
They were fast, professional, and friendly. Very nice people to do business with and their work was excellent. The chairs look great and the daybed is even nicer than original.
Re-upholstering a couch.
I emailed the company and they got right back to me and offered to quote me a price if I provided pictures. I sent them that same evening and within a day I had a quote that was an excellent price. When I am ready to have the couch re-uphostered, I will certainly be using them.
They reupholstered a couch, and three chairs.
I was very pleased, I would recommend them to anybody. Description of work: They reupholstered a couch, and three chairs.
Reupholster 6 DR chairs, 2 barrel chairs, a chaise lounge and a small bench using fabrics I supplied.
I inherited some wonderful pieces of furniture from my parents that really needed to be updated. The fabric was ordered through a decorator I used in Florida. After viewing the positive comments from satisfied clients and viewing the photo's on their website, I called and arranged the work to be done by Blawnox. Both Miranda and her husband were wonderful to deal with. On pickup day they were very punctual and took very good care of the items to be reupholstered. About 2 weeks later, much sooner than promised, they delivered the completed pieces. I was speechless! The work they did was exquisite. The two barrel chairs matched perfectly and the piping was very well done. The print on the chaise lounge was also placed perfectly and the piping, again, was perfect. The same for all the dining room chairs and bench. Photo's of some of the work they completed for me are posted on the website. See for yourself. Their work is so well done that giving them just an A doesn't do them justice. Thank you, thank you, thank you!
They repaired my antique mahogany dining room furniture and other miscellaneous antique items.
Overall their services were excellent. The upolstery company was very communicative. They kept us updated on the status of our projects. They were very accommodating.
I used Blawnox Upholstery to reupholster a chair.
They were on time. The quality of their work was good, and the work went as expected. Nothing really stood out, though.
had a couch custom made and upholstered along with 4 throw pillows.
They were very helpful from the begining. I went in several times to look at fabrics before placing my order. They were alwys very helpful and helped point me towards fabrics that would wear well and match the look I wanted. Once the couch was delivered, I decided I wanted down cushions instead of foam, so they were able to make new inserts for me. I will be going back to have 2 chairs re-upholstered. They were great to deal with and very accomodating.
I had my 108 inch sofa, two end chairs, 6 dining room chairs upholstered.
I brought very high end material samples that I had originally selected (and loved) for another upholsterer to redo my furniture but I had decided not too go with him after it took him an entire year to finish two chairs from my father's estate. I showed the fabric to Miranda and fortunately they had the same sample books in their show room that I had chosen the fabric from. I placed the order and the furniture was picked up from my home in a week. Less than 3 weeks later it was returned and was absolutely beautiful. The furniture was placed where it belonged and looked like it had alway lived in my house! My parents had stored two children's rockers in their basement for the day that my sons had children. After 30 years, I had forgotten that they even existed but in cleaning out my father's house after his death I found them and took them to Miranda to see if they could be salvaged. She helped me choose an animal print and in 2 weeks I picked up the most precious chairs. When I gave them to my daught-in-law I suggested that she put them away until the twins could use them. She took them home and immediately put them in thier play room because she liked them so much. Description of work: I had my 108 inch sofa, two end chairs, 6 dining room chairs upholstered. The dining room chairs were also covered in clear plastic.They also made 7 decorator pillows from the same materials that I had chosen that complemented the different pieces. Several weeks later, I had two children's rockers re-upholstered for my new twin granddaughters.
The price was extremely reasonable.
The price was extremely reasonable. The work was great and the folks are great too. We would go back and recommend them. Description of work: We have a couch that is all cushions on a wooden frame and the fabric on all of the cushions had worn out. The folks at Blawnox, and particularly Miranda, were extremely patient as we searched through fabrics trying to find just the right one. She worked vary hard to help and provided really helpful advice about care and durability. When we finally made our choice they finished the cushions quickly (even in the midst of "Snowmageddon") and the cushions are like new.
They re-upholstered to wingback chairs for me. They also re-did the dining room chair for me.
I got him from Angie's List and he was excellent. They came out to give me the estimate because I could not take the chairs to them. They gave me a price for the labor because I had picked up materials from another company which did not bother him in the least. They were able to finish the work in a very short period of time and I was not ready for the chairs to come back yet, so, they kept them in the showroom window and a lot of people wanted to buy them. It really turned out be very beautiful. They could not match the fabric exactly for the dining room chair, but, it is so close that if they had not told me, I would not have noticed.
I had a massive, seven foot long couch and a chaise recovered in white duck fabric
Because I do not drive, Miranda brought fabric samples to me at my home, which was a huge help. We had conferred about my tastes over the phone and via email before hand, and I knew what I wanted, so this was not too difficult. If I had needed more guidance I think she would have been most helpful. I had a budget which she helped me keep within. When the furniture was delivered the white couch got some dirt on it coming thru my front doorway. The owner of the company scheduled Airport ChemDry Cleaners to come and clean the couch at his expense and my convenience. He said that if the stains did not come out he would reupholster the entire couch again, at no cost. I was floored. Happily, Airport ChemDry did a miraculous job (I would use them again) and my white furniture is once again looking great.
Built a custom-made love seat.
Mr. Yumak and his team did great work on a custom-made loveseat for my sitting room. I met with his designer to select a fabric and to browse through numerous photos of furniture styles to help me choose what I wanted. Before I knew it, he was calling to tell me the loveseat was completed -- 2 weeks ahead of schedule! It's a great piece that stands up to my kids (and dog) and looks beautiful as well.
Re-upholstered two wing back chairs and a dining room chair.
I purchased my own material and he helped me to know exactly how much I needed and if the material was appropriate for residential use. He finished all the chairs in about a week and I requested that he hold on to them, until I was finished refinishing my floors and the mess was all cleaned. He did this without any issues. While he was holding onto my chairs, he placed them in his show room and clients offered many compliments. I very pleased with how everything turned out and so was he.