Create an Account
After you add the Testimonial Builder app to your Wix web page:
Click on App Settings
Click on Create an Account
Enter your email and select a password
After you create an account an email will be sent to you for email confirmation. You are now ready to add a testimonial and configure the Testimonial Builder app
Add a Testimonial
There are three ways to add a testimonial;
via the Add Testimonial button in Manage Testimonials,
via the VocalReferences mobile apps,
via the Add Testimonial button (Premium Account)
via Manage Testimonials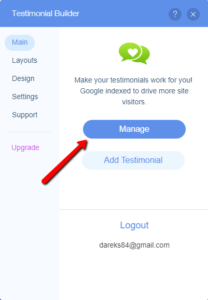 The Manage Testimonials section found in App Settings is the area where you will be able to add testimonials, edit them and delete them (premium feature). To add a testimonial:
Go to the Manage Testimonials section in App Settings
Click on Add Testimonial button
Add your testimonial
For more information on the Add Testimonial form, go to the Add Testimonial form section.
via Mobile Apps
As a Testimonial Builder user you have the option to add testimonials via one of our mobile apps. There are two apps available; one for iOS and one for Android. Download the app to your mobile device, login with your existing Testimonial Builder credentials and you are ready to go. Any testimonials added and synced via the VR mobile apps will automatically appear on your Wix website. Follow the instructions for adding testimonials via the VR mobile apps to learn more about how to use the mobile apps.
via Add Testimonial Button (Premium Feature)
As a premium user you can add an Add Testimonial button to your Wix website. This button will allow your web visitors to add a testimonial on their own. After clicking the button the visitor will be able to add a testimonial on their own. After they save the testimonial, you will receive an email informing you of the new testimonial. You can then go to Manage Testimonial section of the App Settings and edit, accept or reject the testimonial. Accepting the app will automatically display it on your website. Rejecting the testimonial will automatically delete the testimonial.
Layout and Display Options


There are numerous layout and display options for you to choose from. Each layout has its own display options. You can move between the layouts and experiment with the various display options.
Premium Layouts
In addition to the two basic layouts, there are 4 premium layouts which give you a upscale look to your testimonials. Before you create an account you can experiment with the various basic and premium layouts to see which layout best fits into your Wix site.
Premium Advanced Options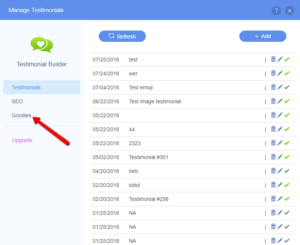 In addition to the premium layouts there are advanced options available to premium users. These options provide further functionality to the Testimonial Builder. The advanced options include adding an "Add Testimonial" button to your website and adding social icons to your testimonial display.
"Add Testimonial" Button
The "Add Testimonial" button when selected will allow visitors to your website, to leave a testimonial. When a visitor leaves a testimonial you will receive an email that a new testimonial has come in, and when you go to the App Settings of the Testimonial Builder in your Wix website and go to Manage Testimonials, you will see a new testimonial waiting there for you to accept. If you wish to accept the testimonial simply click on the Accept button. If you do not wish to keep the testimonial you can delete it. The testimonial will not be displayed on your website until you have accepted the testimonial.