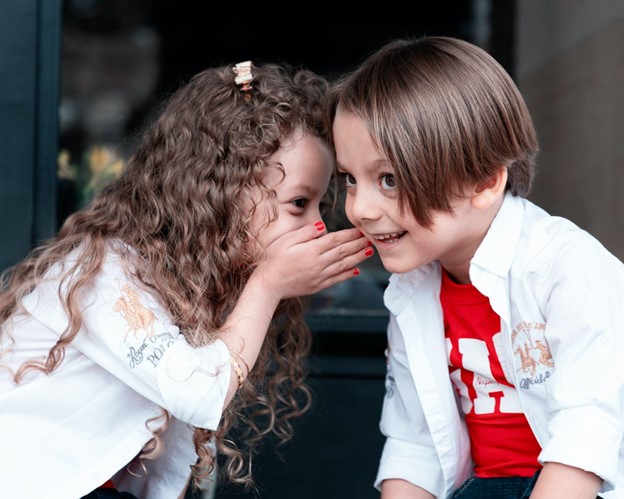 Word of mouth is basically a process where you pass information from one person to another by means of oral communication. Storytelling is one of the basic and best examples of word of mouth. One person tells a story to another person about a specific event or any other thing.
When utilized at its best, it is a way of using happy customers to promote your business. It is not exactly a new term. Consumers have been sharing their views, experiences, needs and emotions about different products and services for a long time with their friends and family.
Origin Of Word Of Mouth Marketing
Word of mouth advertising has existed since the language and businesses were joined together. Irrespective of the era, and even when advertising was not a formal activity, people solely relied on the reviews of other people to know what they should try.
But, Why Is Word Of Mouth Advertising A Strong Tool?
Because, if you know someone, you are able to trust their opinion about different things they have already tried and you are unfamiliar with.
So, if we go deep into history, we would be able to find that word of mouth advertising was actually a naturally born marketing tactic that was necessary at that time in order to cater to human needs and for a trusted review about an unknown thing or product.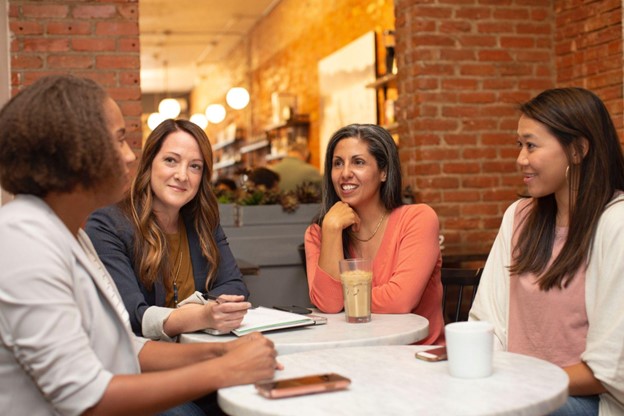 Well, at that time, people doing so might not know that they were being involved in word of mouth advertising, but actually, they were doing it.
Over time, the landscape in which word of mouth advertising and such interaction have occurred, shifted drastically. Although the platforms keep changing, the kind of marketing is still alive.
The Pioneer Of Word Of Mouth Advertisement
George Silverman was a psychologist who is known as the pioneer in the field of word of mouth marketing. At that time, he created a word of mouth model and called it 'teleconferenced peer influence groups' in the early 1970s.
Basically, these groups were designed to discuss new pharmaceutical products with the physicians. However, Silverman noticed an interesting phenomenon when the opinion of skeptics on a drug was changed by the positive endorsement from a couple of their peers.
And that phenomenon worked so powerfully that ex-subscribers with a negative experience with the particular drug were noticed to change their mind when some of their peers provided positive feedback about the same drug. This was when the phenomenon of word of mouth was first observed.
Word Of Mouth Advertising Before Digitization
From the 1970s, it was the pre-digital era, and at that time, word of mouth marketing was simply when a satisfied customer or potential customer recommends any brand to someone verbally by means of oral or written communication.
It includes mostly the outbound form of marketing in which clients' reviews were featured through ads, catalogs, flyers, TV or radio. Another way was to host product-focused teleconferences.
Arrival Of The Internet
The revolutionary point for the word of mouth marketing was the arrival of the internet. And as soon as businesses started launching their website, social media went viral, and the internet became a part of our daily lives, word of mouth marketing emerged as a completely new beast. Now, brand stories, good and bad reviews, spread like a fire in the jungle.
How Word Of Mouth Advertising Looks Today
Word of mouth marketing has become so significant today. Sales and growth of the brand rely upon it. According to McKinsey and a survey conducted at Dissertation Assistance, 20 to 50 percent of all purchasing decisions are based on word of mouth recommendations.
But how does this happen? In order to understand the way word of mouth marketing works today. Let's have a look at a classic example of Apple.
Word of Mouth and Apple
Whenever Apple plans to launch a new product, they first leak the information about their new product in the market as a coming-soon product. This creates a lot of excitement among the people on the internet and social media.
They let the buzz build, and after some time, the company organizes a grand event to launch its product and reveal its features. A lot of people put their efforts into attending the event physically or somehow join it through an online medium.
This is how Apple makes people struggle to get its product before their peers. Finally, the ones who have got the product will definitely go to their friends and tell them about all the great features, showing that scoring an Apple is a win already. This will definitely bring new customers to Apple.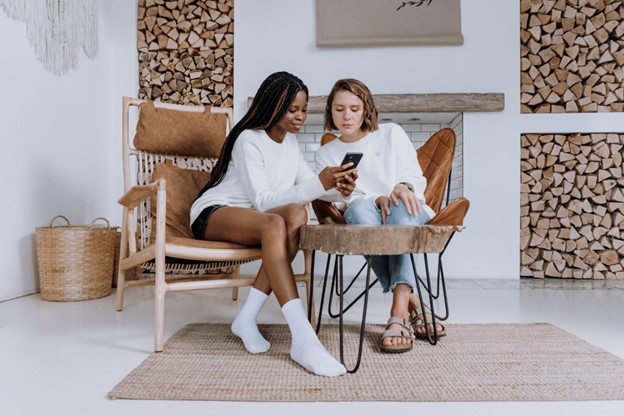 A similar story goes with the Apple iPad. Even before its launch in 2010, we never knew we would need a product like the iPad. But Apple created a buzz, and we went on to buy 102 million iPads in the coming year. This is because we were convinced by our fellows. This is how Apple uses WOM greatly.
Now, businesses work on it and allocate a proper budget for word of mouth marketing. Thousands of review platforms are evidence of how much people believe in feedback and WOM. Further, about 60 percent of purchasers look for reviews before making any purchase online.
Recently, Sam Morril tweeted about how word of mouth marketing helped him gain millions of views.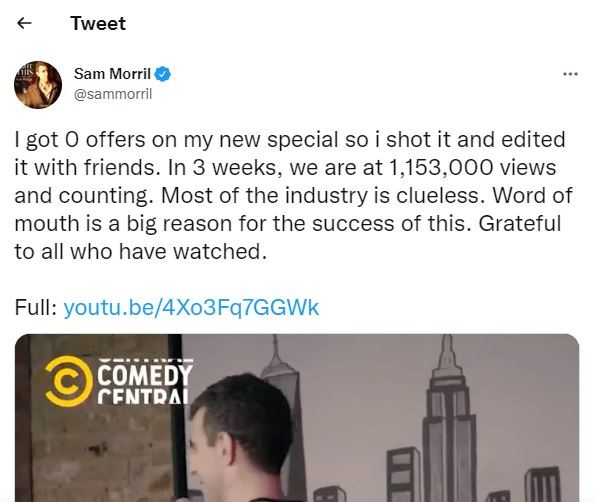 You will see brands promoting their reviews and asking customers to post reviews and give feedback. Furthermore, a lot of businesses feature their customer reviews as stories on social media to spread the word of mouth marketing.
Discounts are being given to the customers who can bring in referrals. This is the reason that word of mouth marketing drives $6 trillion of annual consumer spending. It brings five times more sales than a paid media impression, and 90% of people trust brands that are recommended by their friends.
I hope that this post has provided you with some good knowledge about how was word of mouth marketing initially and how it changed throughout time.