We've been busy listening to our customers and scanning the world for the latest and greatest technologies to enhance your testimonials. The result is some great new features which we are introducing to our testimonial app – VocalReferences in 2020.
So here is our roundup of these testimonial app features:
1. Audio Testimonials
Audio is everywhere. We talk on our phone, we leave whats app audio messages, some of us are now listening to podcasts and Google, Apple and Amazon our using audio to interact with their products.
At VocalReferences we've decided to integrate audio into our product. Now when you request a testimonial from your customer, they will have the option to click on a microphone icon to leave you a voice testimonial.
This audio testimonial can be displayed on your website for all to hear. This is truly an authentic way to get the voice of your customer on your website.
2. Transcribe Audio Testimonials Into Text
We have gone one step further when it comes to audio testimonials.
We know that there are many out there who may not have the time to listen to a testimonial. Others prefer to scan a page quickly and read the recommendations.
We also know that Google likes text.
For these reasons we also added the capability to transcribe the audio testimonial right from our Merchant Center.
Here is how it works.

After an audio testimonial comes in, simply click on the audio to text button and your text will be transcribed within seconds.
From our initial observation the transcription works very well, however if you feel you wish to fix some wording there is always the option to do so in the Merchant Center.
3. Display Audio & Text Together
We know how important it is to display your testimonials on your website. For this reason, we have updated the layouts to display an audio widget in the testimonial for audio testimonials. This widget allows your visitor to play, stop, rewind and advance the audio at her request.
For those that have transcribed their audio testimonials to text we have upgraded the layouts so that you will be able to display the text and listen to the voice of your customer with the audio widget. A win-win feature.
4. New Redesigned Recommended Merchant Badges
Everyone likes to show off their reputation. We have therefore redesigned the Recommended Merchant Badges to make them easier to see and read. Even those who start off with the Bronze level will now benefit from the clear and updated design.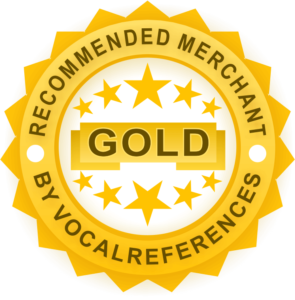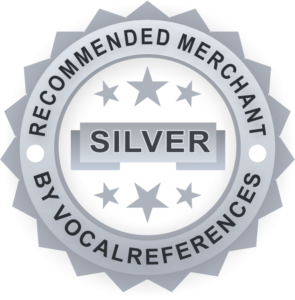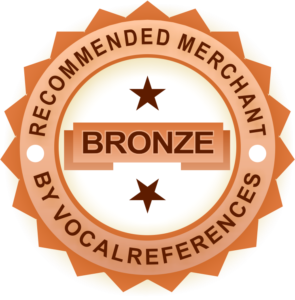 If you already are displaying the badges, you don't need to worry, the badges are already upgraded on your site.
5. Redesigned Add Testimonial Form
To incorporate the new audio features we took a re-look at our popular add testimonial form. The result is a new design which incorporates all the great features of our product.
Remember, as an upgraded VocalReferences user you can customize the information that you display on and collect from the form.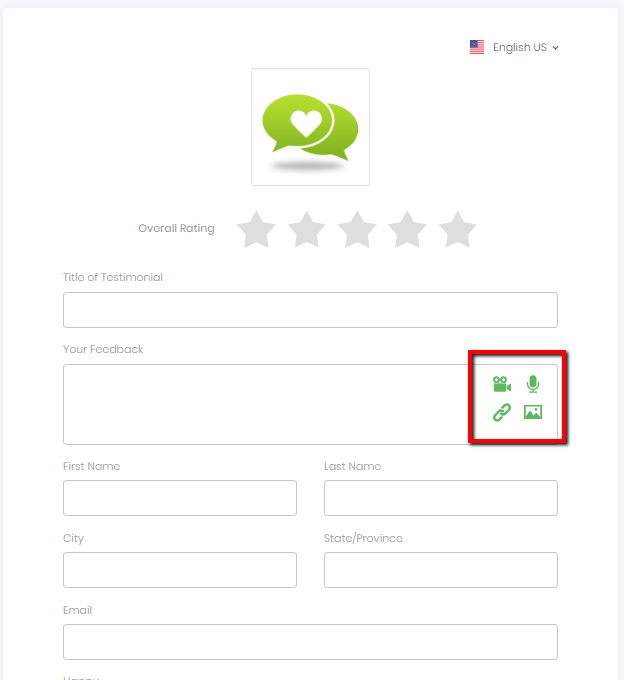 To start using the new form, go to the merchant center and copy the new links.
6. Turn A Testimonial Off And On
Sometimes you have a need to turn a testimonial off and on. We've added an on/off button next to the testimonial in the Merchant Center for your convenience. When you turn the button to off, the testimonial will not appear on your website or on your Showcase Page.
7. Automatically Import Google, Facebook, Yelp Reviews & Ratings
Importing your reviews from Google, Facebook and Yelp is a popular way to getting started. However we have heard from our customers that they would appreciate an automated way to import on a regular basis.
Ask no more. It is now available to Pro Plus users.
8. Updated Merchant Center
We have recently released a new version of the Merchant Center with a new look and many great features. This new design works in desktop and mobile, so you can manage your testimonials on any device whenever it is convenient for you.