Use Testimonial Links to Get More Testimonials
As a standard feature of VocalReferences, each user is setup with multi-lingual url links specific to their account. These links are very handy and can be used in many ways. For example:
Send links to customers via email, sms, Messenger or Whatsapp
Hyperlink text or graphics in your website which will take the visitor to your add testimonial form.
Use in ads to solicit feedback
The link is associated with an Add Testimonial Form specific to your business. This form is mobile ready and the main interface for soliciting testimonials and reviews from your customer. This form can be customized to meet your every need.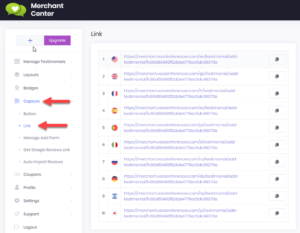 To get your specific link, simply login to the Merchant Center and go to the Capture menu and click on the Link menu item. You will then be taken to the Link page which has your specific Testimonial links.In addition to the button you can add a link (url) to any document, page or email to solicit testimonials.
There are a number of links which point to the same add testimonial form but in different languages. The form that appears as a result of the link will be displayed by default according to the user's language settings in his browser.