Welcome to the world of Five Star Coupons. Coupons are the most widely used and successful means to attract new customers and close those who are considering purchasing your product or service.
Five Star Coupons was built to support businesses who wish to use coupons to generate more leads and close more deals. It has many tools to manage & promote your coupons on an ongoing basis.
Below you will find a description of how to get started and the major functions of Five Star Coupons.
In short, to get started you will:
Create a new account or use your existing VocalReferences account
Fill out your business profile to benefit from the SEO value of your coupons
Create your first coupon. Remember that visuals are very important so you will want to use images which will make an impression and which represent your offer, product or services.
Creating a Five Star Coupons Account
The first step in the process is create an account. You can use your existing VocalReferences account or you can create a new one. You have three options for creating an account:
Email
Facebook
Google
Coupon Management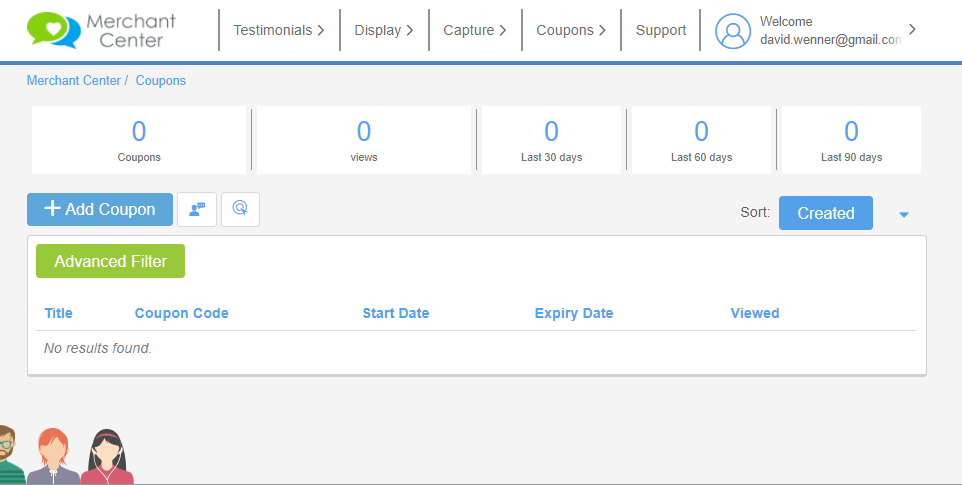 After you have created your account you will be taken to the coupon management area. In this area you will be able to:
Create new coupons
Edit existing coupons
Delete existing coupons &
Share coupons
Creating Your First Coupon
Once your account has been created, you are now ready to add your first coupon. The graphic below demonstrate the fields available to you to customize your coupon.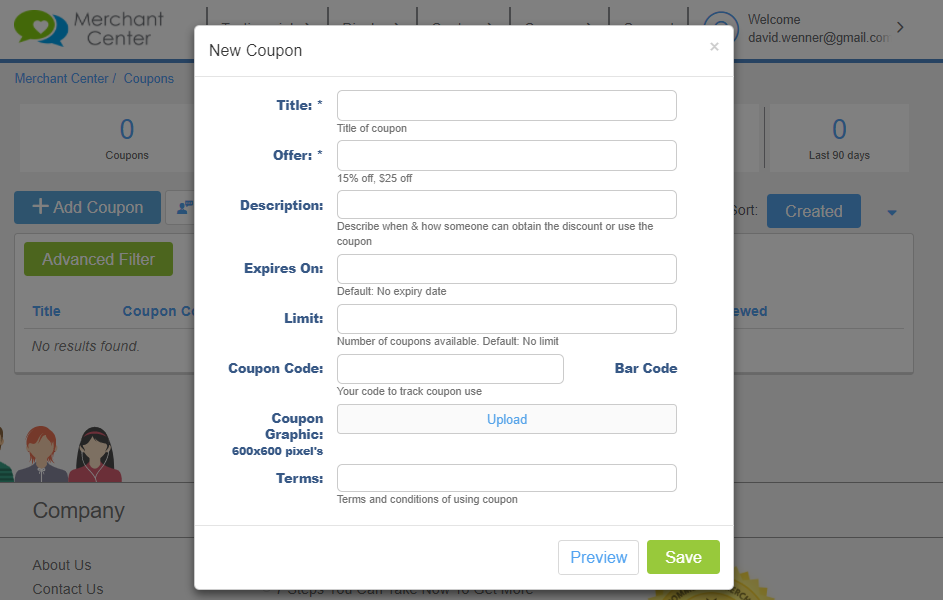 Below you will find a description of the various options available to you for configuring your coupon:
Title
The main title of your coupon. Use something catchy and keep it to a few words.
Offer
What you are offering to those who use the coupon. It can be a % off your list price or an amount in dollars or other currency
Description
Describe in detail about the coupon and how to use it. You can also use this space to further describe the benefits of your product or services
Expires On
The date and time on which the coupon will expire and no longer be available for use
Limit
The maximum amount of coupons you will accept for this offer. Enter a whole number. You can track this number. We will also track the number of times the coupon is being clicked on to be viewed.
Coupon Code
Enter your own coupon code so that you can track the sales via the coupon code to see how effective the coupon is to your sales programs.
Bar Code
If you enter a code we will produce a bar code which will make it easier to scan the code, if the customer prints out the coupon and uses it at a physical location.
Coupon Graphic
Upload a graphic which either visually shows your product or attracts attention to your coupon offer. We recommend you never leave this blank as this image is used in the display of every coupon and will make your coupon stand out and look professional.
Terms
This is where you will put in any special terms or conditions for using the coupon.
Previewing Your Coupon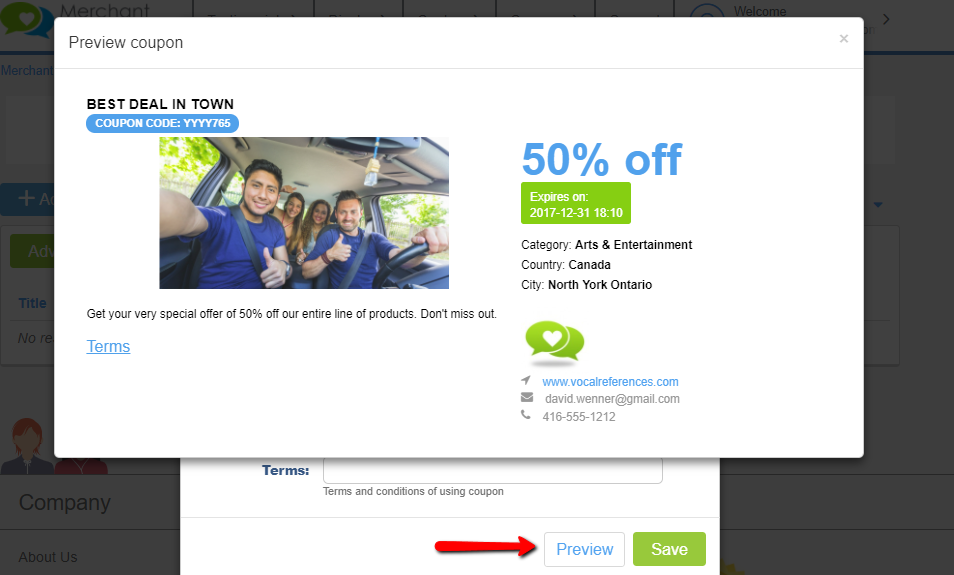 While you create or edit your coupon, you can preview how the coupon will look by clicking the preview button at the bottom of the form.
Your Coupon List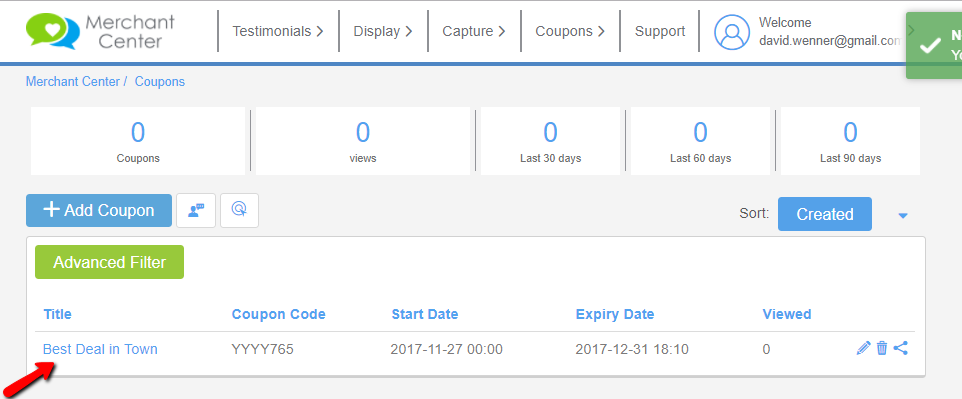 Once you save your coupon details the coupon will now appear in the list of your coupons. You can always go back and edit any of the coupon details.
Update, Delete & Share Coupons

From the list of coupons you can update any details of the coupon, delete the coupon or share the coupon to social media. Be aware that once your coupon is deleted there is no way to recover the coupon.
Coupon Showcase Page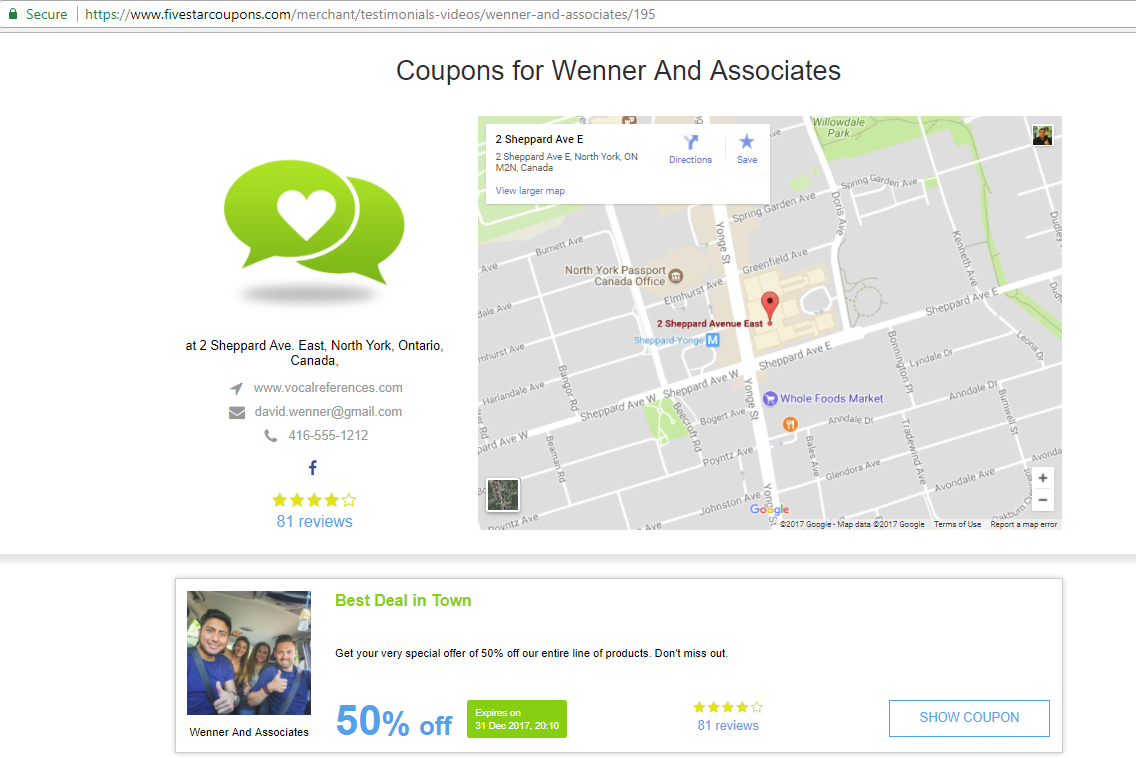 When you create your account in Five Star Coupons we create a unique coupon showcase page. This page, which resides within the fivestarcoupons.com domain, displays all the coupons available to the public from your company. When you delete a coupon or a coupon expires the coupon will no longer be displayed on the page.
On this page we also display your business information and your business logo. For this reason it is important that you fill out your business details found in the Profile Page.
Business Category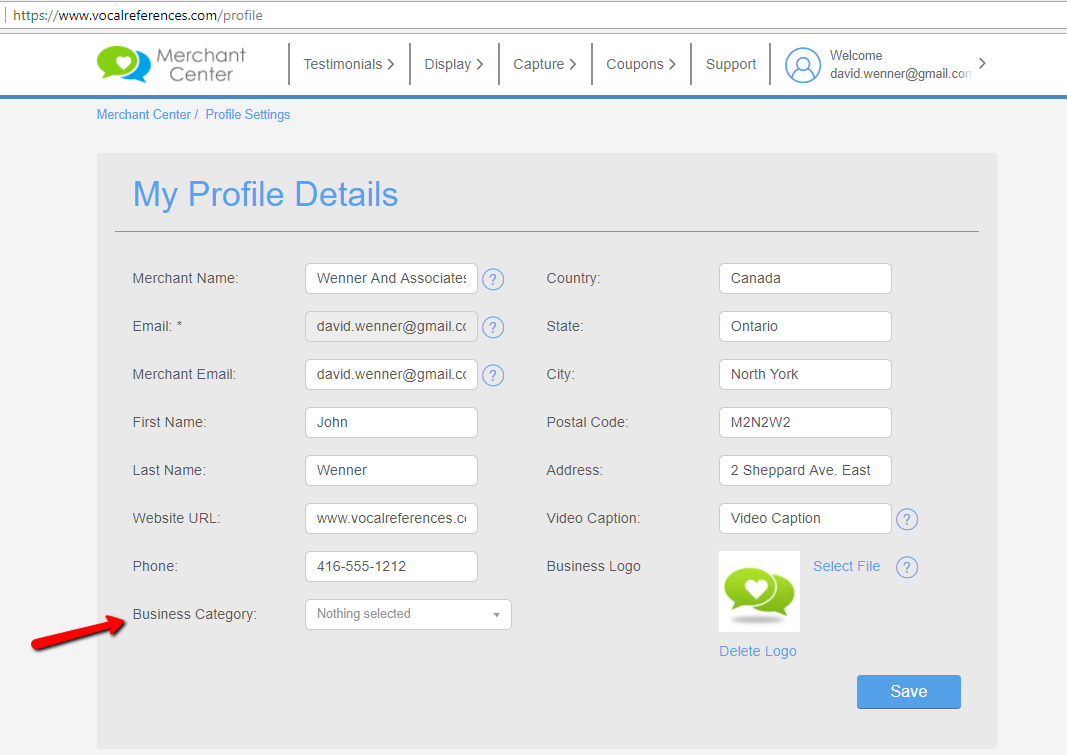 As part of providing your business details we also ask that you select a business category which bests suits your business. We use this business category to build indexes, category pages and your unique coupon url. For this reason it is very important to select a business category for your profile. If you do not find a business category which suits your business, please email us and we will add your business category to our list.
SEO and Your Coupons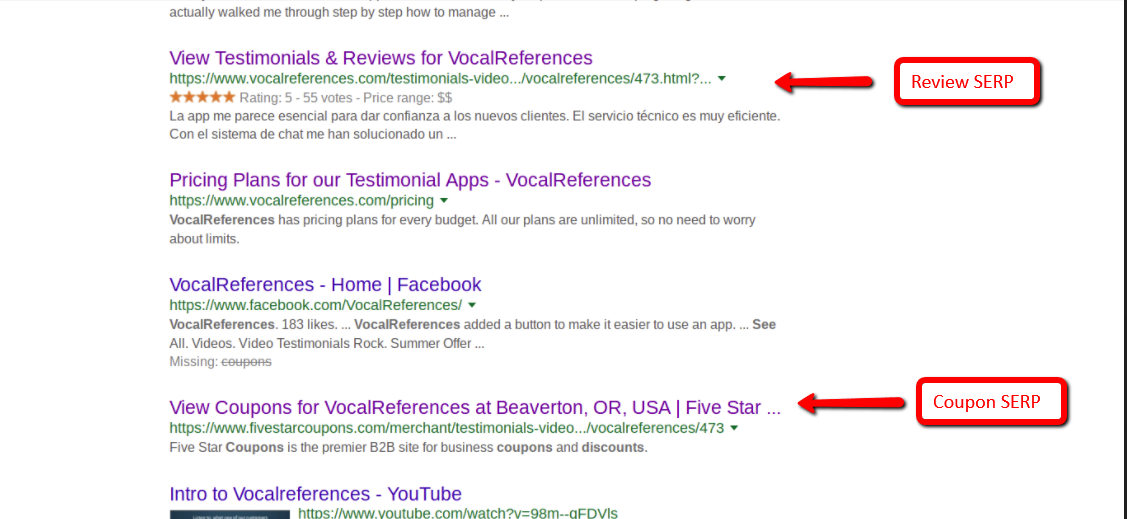 In addition, we submit your coupon showcase page to Google for indexing. If accepted by Google, this page will be displayed when someone searches for your business or when someone searches for coupons for your business.
Displaying Your Coupons On Your Website

One of the great features of Five Star Coupons is the ability to add our coupon display widget to any web page. It is really easy to do.
To add coupons to your website follow the following steps:
Go to the coupon widget display page
Customize how you wish the display to look and feel
Preview the display, by clicking on the Preview button
Save your changes
Click on the Copy Code button
Copy and Paste the code snippet to your web page and save the web page.
If you run into difficulties with the code email us at support@vocalreferences.com and we will assist.