The following article on video testimonials has received some very good feedback from our readers. We've made some updates to make the article even more relevant. We also suggest a great article by Dawn Mathews on 100+ video marketing stats you need to know in 2020.
Video testimonials combine two of the most powerful elements in digital marketing.
Customer feedback
Video content
Showing real customers talking about the benefits of your product or service is one of THE most powerful ways to drive sales in 2017. Best of all, very few businesses have yet to implement video review systems, making it an easy method for differentiating yourself in a crowded market.
Today, we're going to show you just how effective video testimonials can be, and then we're going to walk you step by step through setting up your own video review system.
4 Reasons You Can't Afford To Ignore Video
So the first question that has to be asked is "Why?"
Video testimonials require more from the customer than a paragraph of text, a rating out of 5 stars, or a social media comment. Why should we prioritize using video in the first place?
1. Video Converts Like Crazy
The first reason is the most important one: video content converts in a big way.
64% of viewers are more likely to purchase after watching a video.
Including video in an email increases click-throughs by 200-300%.
73% of B2B business using video in their marketing report positive ROI.
80% of consumers recall video ads they've seen in the last 30 days.
Enjoyment of video ads increases purchase intent by 97%.
No matter how you look at it, video is insanely effective at getting viewers to act.
Video has an unparalleled ability to influence emotion in the viewer, and at the end of the day, whether we're promoting B2C or B2B products, emotions drive purchasing decisions. As strategist Ardath Albee puts it, "The more emotionally committed your buyers are, the harder they'll work at the logic needed to validate the choice to change by buying your solution.
While video at large is incredibly effective, customer testimonials are in fact the most effective type of video content on the web, according to a 2015 study by Ascend, ranking just above explainer videos and demonstration videos.
The point is, video has been proven to be incredibly effective at driving real sales and influencing viewers in whatever manner a business or organization seeks.
2. Users Like Engaging With Video
While the first priority for any marketing channel is ROI, it's just as important to understand how our marketing strategies are affecting brand perception and long term customer engagement. And again, video content knocks this metric out of the park:
90% of consumers say product videos are helpful in the decision making process.
92% of mobile video consumers share video content with each other.
75% of executives watch work-related video content online at least once per week.
59% of executives would rather watch video than read text.
1/3 of all online activity is spent watching video.
Marketing is typically a mix of trying to match what converts with what people want. In the case of video, there's no balancing act required. People love video AND it influences their behavior.
It's a win-win.
3. Video Ranks Higher In SEO
At this point, by ANY business standard, video is a mandatory investment.
But like the late Billy Mays would say, "Wait, there's more!"
According to Forrester Research, pages with video are 53 times more likely to be listed on the first page of a search engine's results than pages without video.
This is in large part to Google adding "time on page" as a big component in its ranking algorithm. The longer people stay on a page after clicking through from search, the more relevant Google considers it for the searched result. As Comscore reports, people stay an extra 2 minutes longer on average when the site has video content.
Why is this such a big deal?
Well, you know how important Google rankings can be for a business, but did you know Youtube is the 2nd largest search engine in the world, with more than 3 billion searches per month?
Video content not only helps you rank your content in Google, but it can also give you the door to entirely new channels of traffic via video sites, with Youtube being the most popular.
4. Social Media Loves Video
As little as 5 years ago, this would have just qualified as a footnote under our section about people loving video, but in 2017, social media really it's own behemoth that has to approached on its own terms.
A literal 1/7th of the planet's entire population spend time on Facebook every day.
Think about that.
And social media loves video. A study by Usurv found that 39% of people were more likely to share an online video than a text article, 27.4% more likely to click through, and 56% more likely to "like" it.
You can catch on now or you can catch on later, but the smart marketers are getting there first. Half of all marketers are using video on social media. 12% have already purchased autoplay video ads on Facebook and 57% plan to this year.
Video converts. People love it. Search algorithms love it. Social media loves it.
But beyond the statistics, video testimonials are able to communicate the value of your product or service better than any other medium.
Let's look at why.
Why Video Testimonials Are So Emotionally Powerful
The average website visitor bounces away from a page within 15 seconds.
Yet somehow, the average video viewing time is nearly 3 minutes.
Video has the unparalleled capacity to attract and hold attention while transferring emotion to the viewer and influencing behavior. In other words, it's a dream marketing tool.
Here's why…
1. Video Allows You To Communicate With Gestures & Tone
In his book Kinesics and Context: Essays on Body Motion Communication, Ray Birdwhistell says that the spoken word carries 30 – 35% of an interaction, while the unspoken activities – gestures, facial gestures, body language and tone of voice – accounts for 65 – 70%.
Written content allows for only words, podcasts allow for the addition of tone, but only video allows for the entire spectrum of human communication to be delivered to the viewer. When you have a landing page with no video, you are leaving 70% of your communication potential on the table.
2. The Human Brain Processes & Learns From Video More Quickly
Psychology Today reports that the brain processes video 60,000 times faster than it does text. Since the majority of us are visual learners, we absorb information faster and understand it more quickly when it's communicated via video.
For very simple, commodity-like products, a paragraph's worth of written text might be enough to communicate the full value. When you need to review a more complex idea, service or product, however, video is the only way to communicate effectively.
3. Video Makes A Much Bigger Emotional Impact
Video drives a far greater emotional impact than text is capable of provoking. When we watch someone having an experience in a visual scene, mirror neurons in our brains trigger in the same way they would if we were having the same experience.
For example, when you're watching a movie, your brain tricks itself into being part of the story as opposed to simply a spectator. When you're watching a video of someone providing an authentic video testimonial, your brain can cast you in the role of the spokesperson, allowing you to feel what they feel and visualize yourself with the product.
Excellent Examples of Video Testimonials In Action
We've explained the statistics behind the power of video, and we've looked at the psychology behind video testimonials.
Soon, we'll learn how you can easily collect video testimonials from your clients, but first, let's look at several companies successfully using video reviews in their own campaigns.
The following five businesses use video testimonials the right way.
1. Codecademy
Codecademy, a site offering free coding classes, was founded in 2011 by Zach Sims and Ryan Bubinski. Within 5 years, they had built an impressive customer base numbering 25 million users.
The following video is a testimonial by one of their customers, Tommy Nicholas, who talks about how Codecademy transformed his career. Within 50 seconds, viewers are able to understand exactly how Codecademy can help them.

See it for yourself on the Codecademy website.
What makes this video testimonial particularly effective is that Tommy Nicholas went on to build one of Time's 50 Best Websites in 2013, which gives Codecademy tremendous credibility. The video is inspirational, because it leaves the viewer thinking, "If he could do it, so can I, with Codecademy".
2. 99Designs
99Designs, started in 2008 by Mark Harbottle and Matt Mickiewicz, is an online graphics design marketplace. After just 8 years in business, the company generated revenue of $60 million in 2016.
99Designs features two video reviews on their site, one of them by a customer, Jenn Khoe, who explains how she searched for the right designer to have a logo created for her accessory business.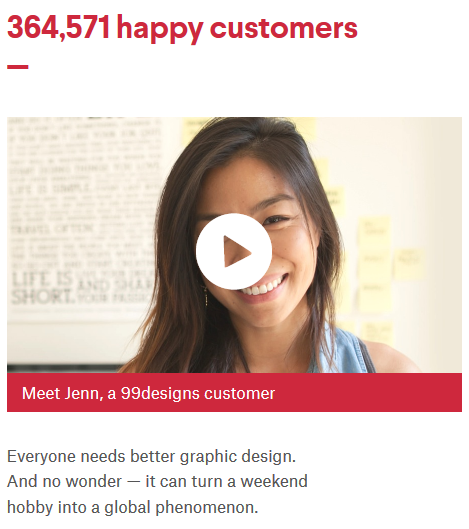 See it for yourself on the 99Designs website.
Just as in the previous example, the fact that this 99Designs customer is successful in her business (she was nominated Best Accessory Designer of the year by Raw Artists), immediately adds credibility to the service 99Designs offers.
But more importantly, the customer's smiling, enthusiastic review hits on some of the emotional benefits she experienced using 99designs versus a more traditional freelance hire.
3. ClearSlide
ClearSlide is a sales engagement platform that's currently raised $89M in investment. It was founded by Jim Benton and Al Lieb in 2009 and has won a plethora of innovation awards.
ClearSlide uses video reviews on their case study pages, one of which is from The Economist:
See it for yourself on the ClearSlide website.
The video testimonial is just under 2 minutes long. It is beautifully shot, with a few staff members providing feedback about how ClearSlide can help companies provide better service, which ultimately improves ROI over time.
With this video testimonial, ClearSlide uses the status of its clientele to establish itself as a major player in its industry. It provides a detailed commentary on the benefits of using ClearSlide and elaborates on some of the pain points the client experienced before using the platform.
While most customers won't be interested in providing this level of review, look for enthusiastic customers you can provide extra value to in exchange for a more in-depth testimonial.
4. Chow Now
Chow Now provides restaurants with customized online ordering systems and apps. It was founded in 2012 by Christopher Webb and Eric Jaffe. The company has a total equity funding of $23.04M from 8 investors.
In this example, co-owners of Homeroom, a mac and cheese restaurant, talk about their experience with competitor systems, and what makes the Chow Now software better.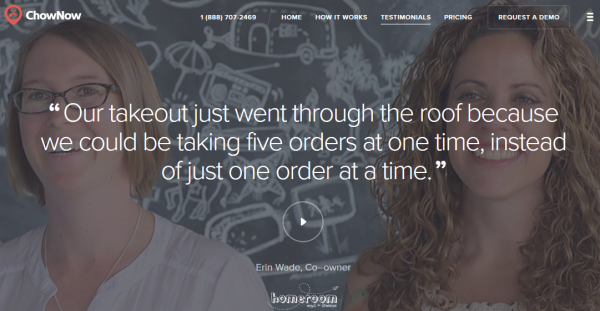 See it for yourself on the Chow Now website.
The punch from this customer review is a concrete number: the client said, "Our takeout just went through the roof because we could be taking five orders at one time, instead of just one order at a time". This provides a very clear scenario for prospective customers to wrap their heads around.
An added bonus is that the video gives the sense that Chow Now understands its clients and their needs, which has helped make the system customizable and easy to use. It helps establish the service as something by restauranteers for restaurantees, which is exactly where the brand wants itself to be.
5. Web Ascender
An an up-and-coming team of seven, offering web design and online marketing services, Web Ascender, founded by Ryan Doom and Kevin Southworth, has doubled its gross sales nearly every year since it's inception in 2007 and was voted "Michigan 50 Companies to Watch" in 2016.
In the example below, the Vice President of Leap Inc, Pam Jodway, shares a user generated review about how the team at Web Ascender makes the client process pain-free and how hardworking the team is.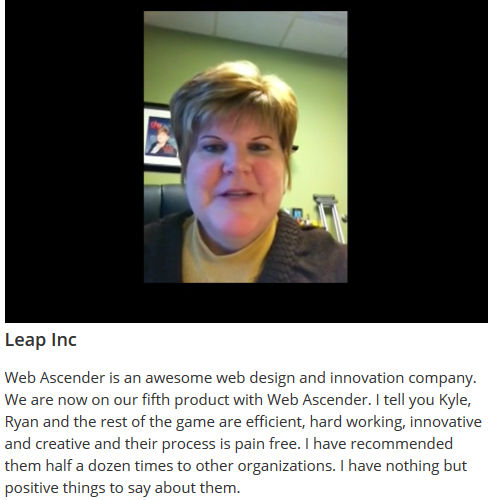 See it for yourself on the Web Ascender website.
Viewing this video testimonial and many others published on the site communicates to prospective customers that Web Ascender existing clientele feel cared for and in good hands. Hiring agencies entails a certain amount of risk, but hearing other customers declare that they are happy with their purchase reduces that risk in the eyes and emotions of potential new clients.
How To Collect & Utilize Video Testimonials For Your Business
Time for the main event! How do you get your own video testimonial system up and running?
You can use two options to solicit video reviews from your clients:
Interview clients and shoot the video yourself.
Get the customer to self-record a video testimonial.
In terms of quality, shooting the video yourself gives you the chance to achieve optimal results. You can make sure the video quality is great, the audio is great, the talking points are solid, etc. Unfortunately, it can be incredibly expensive to shoot your own video testimonials if you don't already have a studio setup as part of your normal business operations.
Buying the equipment will set you back tens of thousands of dollars, and hiring an agency to do it will cost you several grand per video. It might be worth it if you want to include a single video as part of your primary pitch, but it's impractical for the purpose of collecting numerous customer reviews.

The best option for the vast majority of business is to solicit self-recorded reviews from customers. They key here is to incentivize testimonials and then make the review process as easy as possible for the customer.
This is precisely why we created our flagship software here at VocalReferences. We wanted to make it incredibly easy for any business to collect video testimonials from its clients.
With our software, all you have to do is send customers a link via email or invite them to click on an "Add Testimonial" button at any stage in your customer funnel. When they click the button from their mobile device or desktop, it accesses their video camera so that they can record their testimonial. Once that's done, you can review their testimonial and use it in your marketing.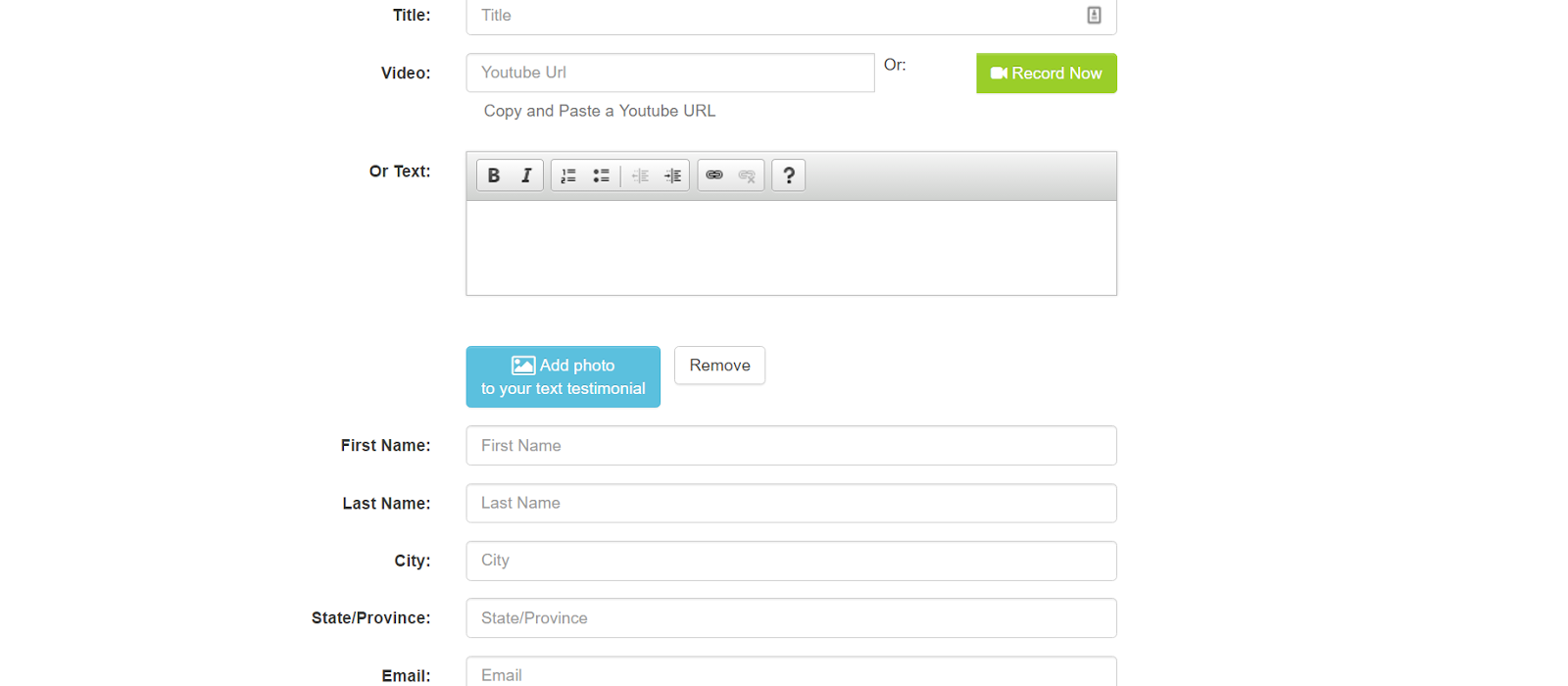 We've made the "how" as easy as possible, but for all but your most enthusiastic clients, you'll need to provide some incentive to get a video review.
An incentive can be anything that the customer considers valuable:
Immediate discount
Coupon for future discount
Entrance in giveaway
Receipt of something exclusive
Customization for order
Etc.
Be careful not to word your request in a way that insinuates a bribe, and be sure to clarify that you are seeking an unbiased review that reflects their real opinion of your brand.
From there, the final piece to the puzzle is to get the RIGHT kinds of reviews from your customers. While it's wonderful if your customers rave about how great you are, it's not of much value if the review they give is just fluff.
Other Suggestions to Making Great Video Testimonials
Testimonials are most effective when the speaker mentions concrete benefits, such as:
"… reduced our costs by 27% in the first month".
"Because of …, our sales increased by 14.2%".
"My husband and I emotionally reconnected again for the first time in 3 years after …"
A good testimonial is short and to the point. The speaker is clear, speaks in the first person, and describes exactly how your business helped solve a problem for them.
You'll need to experiment with different sets of instructions in order to get optimal feedback from your customers – the type of feedback that can really drive sales. You'll want to ask questions like:
How did our products help you achieve your business goals?
By how much did your sales increase after you started using our service?
How did our product change the way you work on a day-to-day basis?
If you are conducting the interviews yourself, you can send them questions ahead of time or brief them before you begin recording. If you are using an automated system, it's as simple as including a customer prompt next to the "Record" button.
Here's a great example of a guided email Groove sends some of their customers to get feedback: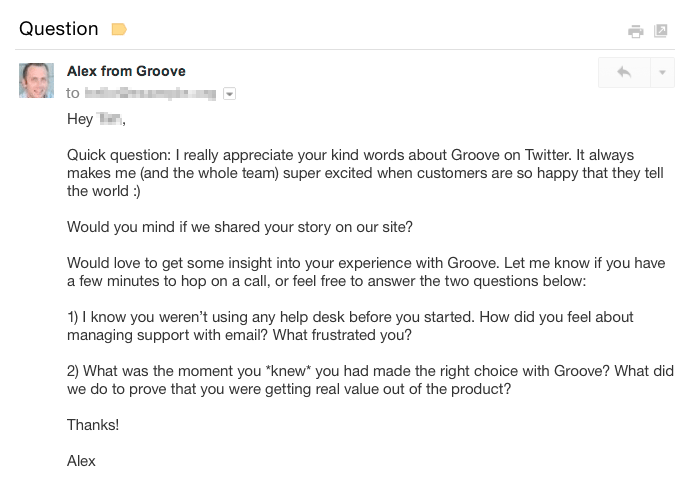 For video testimonials, you could simply include the link provided by VocalReferences in an email worded similarly to this example.
One Last Thought
If you are looking to make your video testimonials looking super professional, you could hire a company that specializes in making professional grade video testimonials. Another option would be to hire someone who has experience in video production or video content to review your video testimonials and make suggestions on how to improve. If you can't implement the changes on your own, you could hire a professional who could implement the content reviewer recommendations for you.
There are many options to taking advantage of video and video testimonials and reviews, so go get started.
Conclusion: Video Testimonials Are A Powerful Tool
Videos are an insanely powerful tool that should be included in every business' marketing arsenal. You simply can't afford to not be utilizing video in 2020.
Video converts like crazy.
People absolutely LOVE video.
Video ranks insanely well in search.
Social media and video are a match made in heaven.
When you combine the power of video with the psychological leverage of customer feedback, you have a sales generating machine on your hand for these reasons:
Allows for the full spectrum of human communication.
Processed much more quickly by prospective customers.
High emotional impact on viewers.
In order to get fantastic video testimonials from your clients, all you need is the following:
Incentives or well-time prompts for customers to provide reviews.
An easy process for leaving video reviews (try VocalReferences for free).
Prompts for customers to provide relevant information in their reviews.
While we've covered a lot today, with the right software, setting up a system like this is a piece of cake. If you'd like to see what video testimonials can do for your business, simply click here to start a free trial.